ASPAN Learn
Perianesthesia Pathophysiology and Assessment: A Systems Approach (PPAW2113) 7.25 CH - Webcast - Saturday, March 6, 2021
Includes a Live Event on 03/06/2021 at 10:00 AM (EST)
You must log in to register

Early bird pricing available!
Non-member - $183
Member - $125
Regular Price after 02/07/2021 12:00 AM
Non-member - $220
Member - $162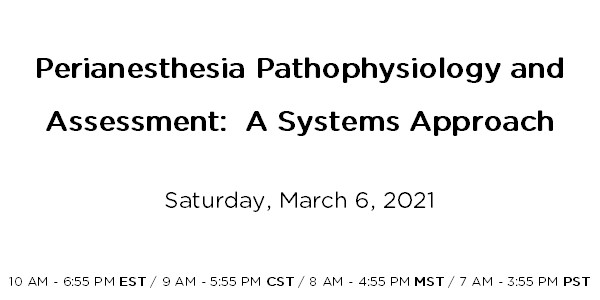 Program Topics:
Gastrointestinal Pathophysiology and Assessment
Renal Pathophysiology and Assessment
Neurologic Pathophysiology and Assessment
Pulmonary Pathophysiology and Assessment
Cardiovascular Pathophysiology and Assessment
Endocrine Pathophysiology and Assessment
Target Audience: All perianesthesia nurses
Outcome: To enable the nurse to increase knowledge in pathophysiology and assessment of the perianesthesia patient
Overall Program Objective: Review key components of system specific pathophysiology and assessment for the perianesthesia patient
Contact Hours 7.25

Lois Schick, MN, MBA, RN, CPAN, CAPA, FASPAN
Lois Schick comes to us from Lakewood, Colorado where she is currently an entrepreneur and a per diem II perianesthesia nurse at Lutheran Medical Center. She is a diploma nurse who proceeded to obtain advanced education receiving a BSN from Metropolitan State College in Denver and both a master's in business administration and master's in nursing from the University of Phoenix, Aurora Colorado Campus.

Lois is a charter member of ASPAN and co-founder of the Rocky Mountain PeriAnesthesia Nurses Association (RMPANA). She served as ASPAN's 28th National President from 2008-2009. She is actively involved in both ASPAN and RMPANA serving on RMPANA's education committee, ASPAN's clinical practice committee, and ASPAN's resource development committee. She is co-editor of ASPAN's PeriAnesthesia Nursing Core Curriculum: Preprocedure, Phase I and Phase II PACU Nursing. The 4th edition of the Core was released in 2020. She reviews articles for the Journal of Perianesthesia Nursing and was inducted in ASPAN's inaugural Fellowship program in 2018.

Lois speaks on perianesthesia topics in the continental USA and has given presentations in Canada, Bermuda, England, and Ireland. She celebrated her 54th year of nursing this year of which 27 of those were in administrative positions in Denver area hospitals. Her passion is travel, photography, education, and caring for perianesthesia patients.
$i++ ?>
Early Bird pricing for this webcast ends at midnight ET on 2/6/21
Online registration is highly recommended.
All discounts will be applied in the shopping cart.
Group registrations must be mailed or faxed only. The registration form is available in the brochure. Please refer to the brochure for full details.
Anyone taking the CPAN®/CAPA® discount will be asked to provide their certification number.
Cancellation Policy: Full refund upon receipt of documented notice of cancellation postmarked 30 days or more preceding webcast date. An administrative fee of 20% will be charged for any cancellation postmarked 29 days or less preceding one week of the webcast date. Please note that webcasts cancelled within one week or less of the webcast date will not be eligible for a refund. This cancellation policy applies regardless of when you register. Refund will be determined by the date notice is received in the ASPAN National Office in Cherry Hill, NJ.
This content will not be available until 03/03/2021 at 12:00 AM (EST)