ASPAN Learn
Perianesthesia Essentials IV (PEIVW2322) 4.0 CH - Webcast - Sunday, June 11, 2023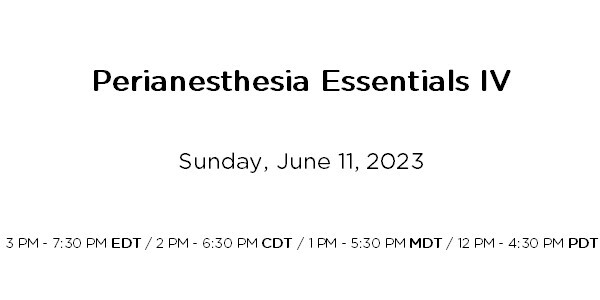 Program Topics:
Regulatory Guidelines
Documentation
Pain and Comfort Management in the Perianesthesia Setting
Integrative Therapies in the Perianesthesia Setting
Target Audience: All perianesthesia nurses
Outcome: To enable the nurse to increase knowledge in regulatory guidelines, documentation, and pain and comfort strategies
Case Presentations: Any case studies discussed during the program are fictional and do not reflect any real persons or events
Requirements for successful completion: To successfully complete this program, you must attend the program in its entirety, complete the online evaluation, and achieve 100% on the posttest, prior to the deadline. Complete within two weeks (14 days) to receive contact hour credit.
Contact Hours 4.0


Sarah Hessling, MSN, APRN, FNP-C, CPAN
Sarah received her BSN from Texas Tech University Health Sciences Center in 2012. She has been working in phase 1 recovery and has been an active member of ASPAN since 2014. She received her CPAN certification in 2015. Currently, Sarah works at University Hospital in San Antonio, TX specializing in pediatric recovery.

Sarah has been very passionate about perianesthesia practice by educating perianesthesia peers on updated practices and importance of becoming certified. In 2018, she spoke at the ASPAN National Conference in Anaheim, CA about work and life balance for perianesthesia nurses. Sarah is an active member on the Membership & Marketing committee, the Education Provider committee, and is the President for the TAPAN Component for ASPAN.
Sarah is working on her MSN in Family Nurse Practitioner at Texas Tech University. She graduates in April 2022. She is excited for the next chapter in her life to include more of her hobbies of biking and hiking with her husband in local and state parks in Texas. Sarah loves her two active and adorable (and sometimes crazy) black Labrador Retrievers, Zoey and Hurley.
$i++ ?>
Early Bird pricing for this webcast ends at midnight ET on 5/14/23
Register Early! Online registration is highly recommended. If we do not meet the minimum required attendance during the week prior, the webcast will be cancelled, and the listing will no longer be available. Notification of cancellation to registered attendees will come from ASPAN. If the minimum required attendance is met, online registration will remain open until midnight ET on 6/10/23. No registrations will be accepted after that time.
All discounts will be applied in the shopping cart.

Group registrations must be mailed or faxed only. The registration form is available in the brochure. Click here to view the brochure for full details.
Anyone taking the CPAN®/CAPA® discount will be asked to provide their certification number.
CANCELLATION POLICY
Full refund upon receipt of cancellation date-stamped 30 days or more preceding webcast date. An administrative fee of 20% will be charged for any cancellation date-stamped 29 days or less preceding one week of the webcast date. Webcasts cancelled within one week or less of the webcast date are not eligible for a refund. This cancellation policy applies regardless of when you register.
Components visible upon registration.