ASPAN Learn
Perianesthesia Essentials I (PEIW2268) 4.0 CH - Webcast - Sunday, August 7, 2022
Program Topics:
Anesthetic Agents and Techniques
ASPAN Standards
Target Audience: All perianesthesia nurses
Outcome: To enable the nurse to increase knowledge in anesthetic agents and ASPAN standards
Contact Hours 4.0


Sandra Gardner, DNP, MSHSA, RN, CPAN
Sandra earned a Diploma in nursing in 1975 from Allen School of Nursing, a BSN in 1990 from Coe College, a Master in Health Service Administration in 1996 from the St. Francis University, a Master of Nursing in 2006 from Allen College of Health Sciences, and her DNP in 2016 from Texas Christian University.
In those "many" years, Sandra has worked in the perianesthesia field in both PACU and Ambulatory positions, Endoscopy, and is currently teaching in the nursing department at Hawkeye Community College.
Sandra have been a member of ASPAN since 1982, serving on committees and working with the organization in whatever way is needed. She is also active in her component, ISPAN, having held many positions over the years.
$i++ ?>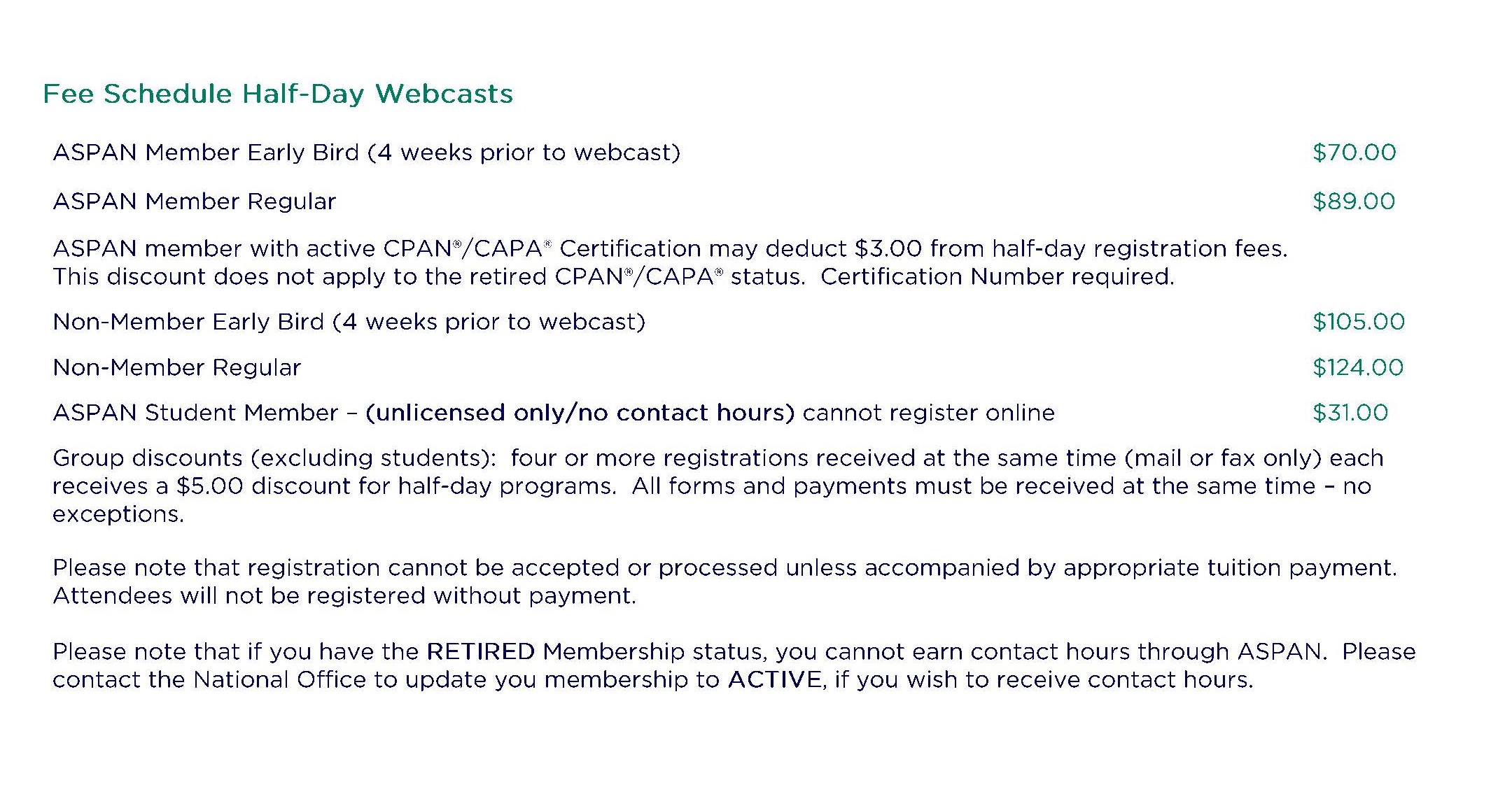 Early Bird pricing for this webcast ends at midnight ET on 7/10/22
Register Early! Online registration is highly recommended. If we do not meet the minimum required attendance by 7/28/22, the webcast will be cancelled, and the listing will no longer be available. Notification of cancellation to registered attendees will come from ASPAN. If the minimum required attendance is met, online registration will remain open until midnight ET on 8/6/22. No registrations will be accepted after that time.
All discounts will be applied in the shopping cart.
Group registrations must be mailed or faxed only. The registration form is available in the brochure. Click here to view the brochure for full details.
Anyone taking the CPAN®/CAPA® discount will be asked to provide their certification number.
Cancellation Policy: Full refund upon receipt of documented notice of cancellation postmarked 30 days or more preceding webcast date. An administrative fee of 20% will be charged for any cancellation postmarked 29 days or less preceding one week of the webcast date. Please note that webcasts cancelled within one week or less of the webcast date will not be eligible for a refund. This cancellation policy applies regardless of when you register. Refund will be determined by the date notice is received in the ASPAN National Office in Cherry Hill, NJ.
Components visible upon registration.