ASPAN Learn
Perianesthesia Certification Review (PCR2401) 7.25 CH - Charlotte, North Carolina - Saturday, February 3, 2024
Includes a Live In-Person Event on 02/03/2024 at 8:00 AM (EST)
You must log in to register

Early bird pricing available!
Non-member - $183
Member - $125
Regular Price after 01/06/2024 11:59 PM
Non-member - $220
Member - $162
Requirements for successful completion: To successfully complete this program, you must attend the program in its entirety and complete the online evaluation, prior to the deadline. Complete within two weeks (14 days) to receive contact hour credit.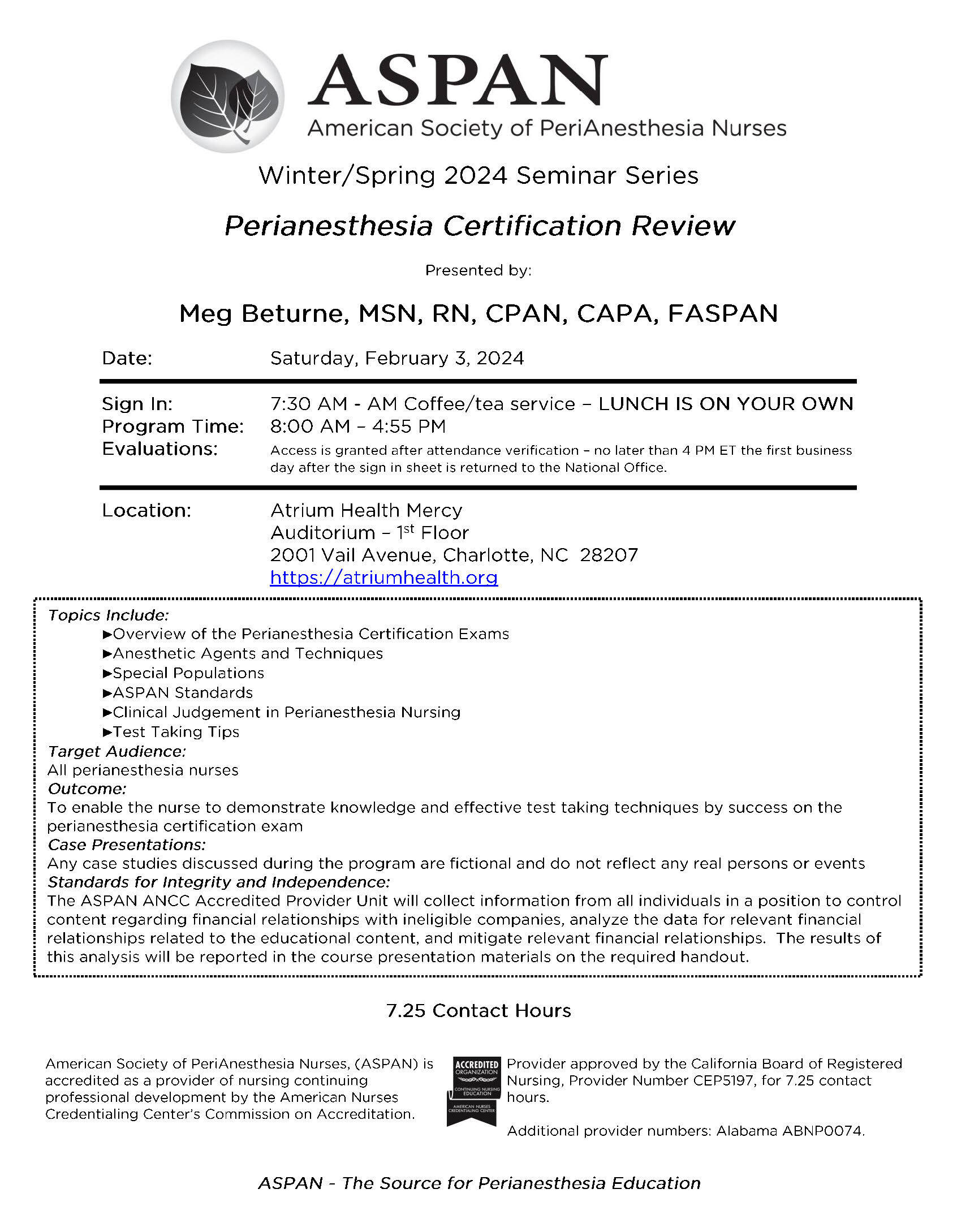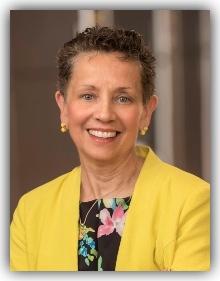 Meg Beturne, MSN, RN, CPAN, CAPA, FASPAN
Meg has been practicing perianesthesia nursing for 50+ years in both inpatient and outpatient settings in both staff and leadership roles. She now practices as a per diem and part time nurse in community hospital settings.
Meg received her Diploma in Nursing from St. Vincent Hospital, School of Nursing in Worcester, MA in 1968, her BSN from Elm's College in Chicopee, MA in 1999 and her MSN from University of Hartford, CT in 2005.
Meg holds the dual certifications of Certified Perianesthesia Nurse (CPAN) and Certified Ambulatory Perianesthesia Nurse (CAPA). She has been active on the Massachusetts Society of Perianesthesia Nurses (MASPAN) Board since 1987, serving as Secretary and President and is currently the Chair of Strategic Planning. Meg served on the American Society of Perianesthesia Nurses (ASPAN) Board for several years in the positions of Regional Director for two terms, President from 2005-2006, Coordinator of Succession Planning/Mentorship from 2006-2011 and currently sits on the Education Provider Committee, the Resource Development and Humanitarian Global Outreach SWTs.
Meg has lectured both nationally and internationally on both clinical and leadership topics. She authored a chapter in ASPAN's Core Curriculum and the Competency Based Orientation Manual. She is a regular contributor to MASPAN's Mayflower newsletter. She led two People to People Perianesthesia Nursing Delegations: in 2007 to China and in 2009 to South Africa. Meg also led a Delegation of Understanding in 2008 to Egypt.
Meg is a Past President of the Children's Study Home Board of Directors and Past President of the local Chapter of the Orthopedic Nurses. She previously served as President of the Ronald McDonald House Advisory Board and the Elm's College Alumni Board. She currently is the President of The Gray House Board. She holds memberships in the Black Nurses and Hispanic Nurses Associations, two Chapters of Sigma Theta Tau Nursing Honor Society, the American Nursing Association, ANA Massachusetts, and the National Association of Orthopedic Nurses.
Meg was recipient of ASPAN's Outstanding Achievement Award in 2011, for her efforts in the areas of mentoring and diversity. She was a finalist in the Nursing Excellence GEM Awards in 2013 in the category of Volunteerism and Service. She was the recipient of the Children's Study Home Rachael Capen Merriam Founder's Award in 2019 and the BERST Academy Outstanding Teaching Award in 2020. She received the MASPAN Community Service Award-A Profile in Volunteering in 2020 and the Distinguished Alumni Award from Elm's College in 2021. In 2023, Meg was inducted as a Fellow of the American Society of Anesthesia Nurses (FASPAN).
$i++ ?>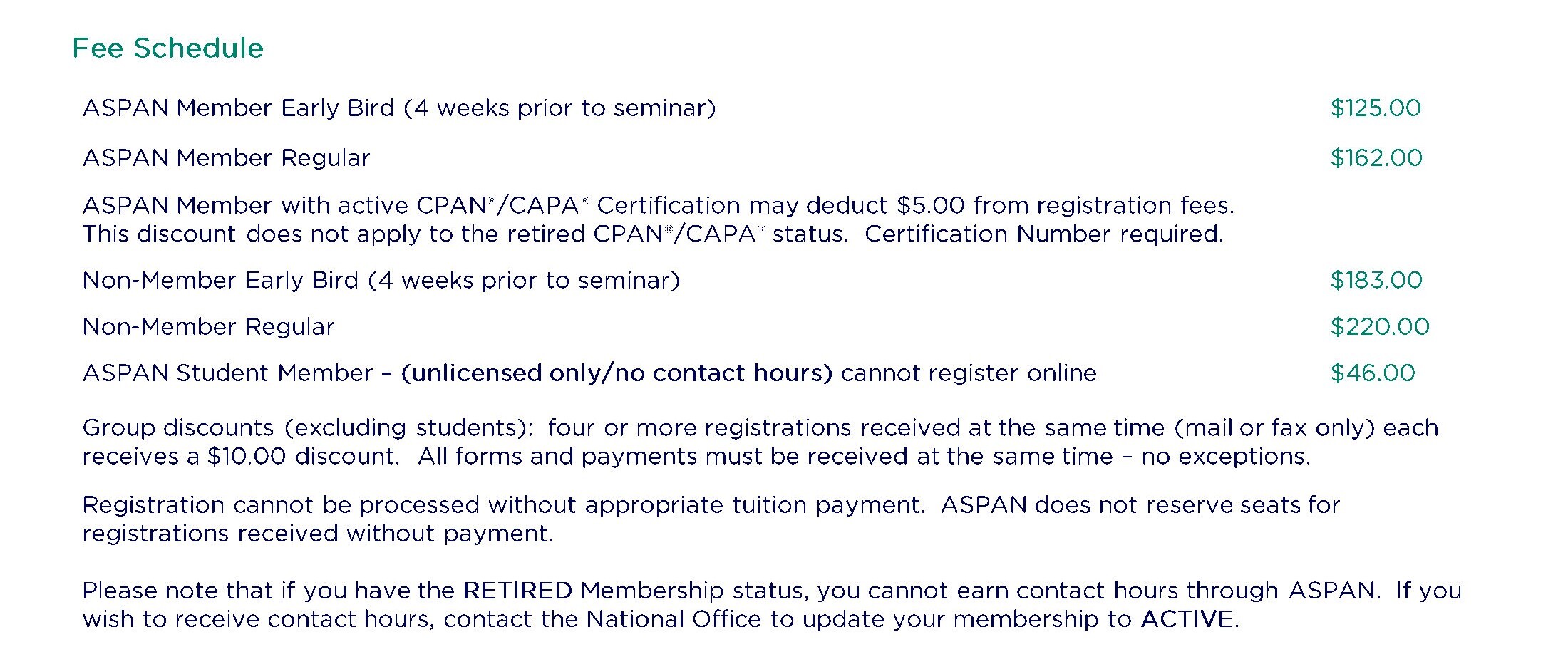 Early Bird pricing for this seminar ends at midnight ET on 1/6/24
Register Early! Online registration is highly recommended. If we do not meet the minimum required attendance two weeks prior, the seminar will be cancelled and the listing will no longer be available. Notification of cancellation to registered attendees will come from ASPAN. If the minimum required attendance is met, online registration will remain open until midnight ET on 2/1/24. No registrations will be accepted after that time. Click here for a printable form if needed.
All discounts will be applied in the shopping cart.
Group registrations must be mailed or faxed only. The registration form is available above and in the brochure. Click here to view the brochure for full details.
Anyone taking the CPAN®/CAPA® discount will be asked to provide their certification number.
CANCELLATION POLICY
Full refund upon receipt of cancellation date-stamped 30 days or more preceding seminar date. An administrative fee of 20% will be charged for any cancellation date-stamped 29 days or less preceding one week of the seminar date. Seminars cancelled within one week or less of the seminar date are not eligible for a refund. This cancellation policy applies regardless of when you register.

This content will not be available until 01/31/2024 at 12:00 AM (EST)